Buttons for Babes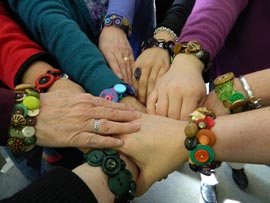 In 2012, the United Way of the Tri-Valley Area (UWTVA) was approached by Christina Bourassa to support the growth and development of her dream, Buttons for Babes, to help area children with critical needs. Since this time Buttons for Babes has been very successful and has received over $40,000 in bracelet donations and corporate matching funds.
As a result of these donations and the overwhelming energy and enthusiasm of the many volunteers that make button bracelets, more than 205 area children have been helped. UWTVA and the Buttons for Babes volunteers have enjoyed working with all of the area child support agencies to address unmet, critical needs.
As we have worked with many organizations and individuals over the past four years with Buttons for Babes, we have assembled a well-developed database of information leading to a better understanding of the needs of area children. Encouraged by our success and this deeper understanding of needs, Buttons for Babes transitioned from United Way oversight to become and independent program (as a Giving Circle) on September 30, 2016.
To learn more about The Buttons for Babes Giving Circle, please contact Ashley Bourassa at littlebourassa@gmail.com.