211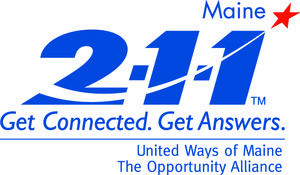 211 is a 24/7 health and human services helpline supported by individual United Ways of Maine, and the State of Maine. The Opportunity Alliance serves as the call center vendor.
Wondering about how to pay for a utility bill? How to get transportation to a medical appointment? Looking for food a food pantry in your area? Call 211. 211 is also online at 211maine.org.
And now you can text to get help too! Text your zip code to 898-211.

"I just have to share that last month, I was feeling really hopeless and helpless. I had lost my therapist of 7 years and my antidepressants were not doing their job. I was getting no help from my doctor and every therapist and psychiatrist that I found would not take my insurance. In desperation, I called 211 and talked to a kind and gentle woman who LISTENED, and gave me two resources to call. Within a week, I had a medication manager, and a week later I had a new therapist. After months of searching, my call to 211 gave me information that I had been unable to find on my own. Thank you so much to the wonderful woman who brought hope back into my life!" - shared on facebook
"I was speaking to a business in Cumberland County last week about 211 Maine. The woman who coordinated the presentation introduced me by sharing her personal experience with 211. Her sister had struggled with mental health issues for years and this woman was desperate to find her professional support. She shared at this meeting that by calling 211 and finding the help her sister needed, not only did it literally save her sister's life, it made a significant difference in her own life knowing that her sister had gotten help."- Nikki Busmanis, 211 Program Manager

211 makes a difference. While we're not the sole answer to every need or question, we're helping people find a place to start to get help.
Thank you for your support in making this work possible. Getting help really is a sign of strength.