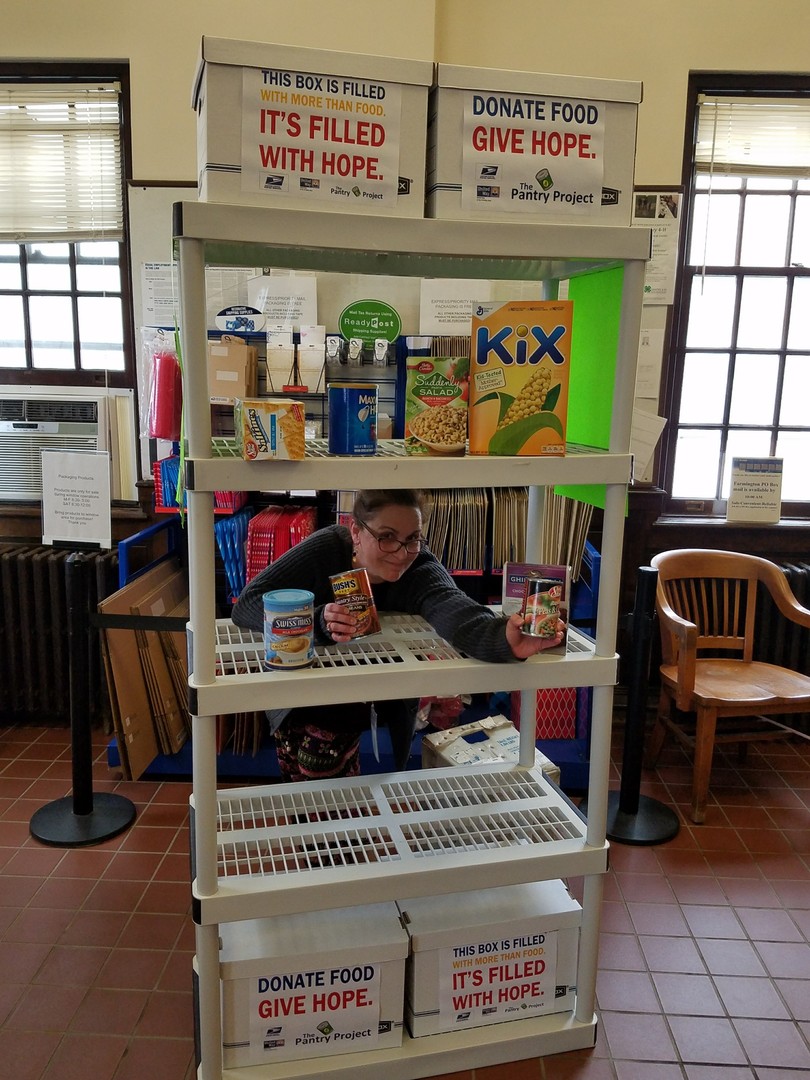 Farmington Post Office participates in 'Stamp Out Hunger' and fills the Pantry Project shelves.
The Pantry Project
The Pantry Project is a joint venture of United Way of the Tri-Valley Area, local businesses, and food pantries. The aim of the Pantry Project is to ensure food pantry shelves are filled and Greater Franklin County residents are fed. Our goal is to engage 10 local businesses or organizations, to fill the shelves and feed the hungry. Why is this so important?
In Maine:
Almost 14 percent of Maine families are not getting enough to eat every day.*
Approximately 20 percent of Maine's children are going to bed hungry every day.*
As our economy continues to struggle, families are having to make difficult choices between paying for medication, housing, heat, childcare, transportation and food, and their health is suffering.
In Greater Franklin County, things are no different.
Did you know:
The area's 13 food pantries are serving an average of 2,000 individuals per month.
Locally, children make up 30 percent of the population visiting food pantries each month.
Between our 13 area food pantries, 24,000 people are provided good food and hope annually.
We make it easy! If you would like to be involved, here is how you are supported:
We will supply a portable five-shelf unit, 18" x 36" x 72", as well as cardboard boxes with attractive signage.
Participating companies or organizations will receive a Pantry Project notebook with project instructions, a press release template, a sample e-mail to send to employees, and a list of area food pantries for food deliveries. A list of healthy and nutritious food items to guide contributors will also be included.
Shelving units will be delivered partially assembled. Participants should expect to set up the shelf display (with minimal effort needed) in a highly visible area and pack food items in the supplied boxes as the shelves become full.
Businesses and organizations will then deliver boxes of food to a pantry of their choice. Cash may also be collected. All cash should be brought to United Way for distribution.
Each participating business or organization will be responsible for letting employees know about the Pantry Project and encourage people to bring in food items. At the end of one month, the participating organization or business will pack the shelf unit and boxes and return them to United Way of the Tri-Valley Area in Farmington, or arrange for pick-up. Businesses may choose to host The Pantry Project for longer than one month.
Please contact Nichole Ernest at the United Way of The Tri-Valley Area: volunteer@uwtva.org, 778-5048.
*Source: Good Shepherd Food Bank www.gsfb/hunger